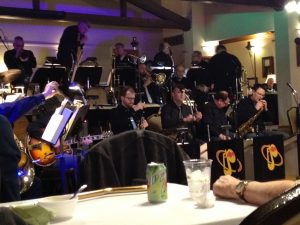 What I expected to be a simple night out a few weeks ago – a one-and-done kind of activity – took an unexpected turn into discussions of audience behavior, expectations, and, well, what constitutes fun.
The performance by Vaughn Wiester's Famous Jazz Orchestra at the Clintonville Women's Club fell into the category of "things I didn't know that I don't know" (which is a large category indeed).
Evidently, I went into the event with one gigantic misconception.
I thought that because the orchestra performs weekly in a social club   – an event that has been going on 20 years – the atmosphere would be somewhat casual. Food is served, and guests may bring in alcoholic drinks. I expected the music to be dominant, of course, but I also expected talking, laughing and perhaps even some dancing.
I thought my friend was kidding when he texted before the event, "NO DANCING!!!!" (Caps and exclamation points all his.)
The extremely talented 22-member orchestra plays fun big band pieces, prompting toe-tapping and wriggling in one's seat. I couldn't complain about the quality of the music.
But I didn't interpret the event as being a stage performance like what I would find at the Ohio or Palace theaters. Even with the $10 cover, I interpreted it as a club, a place for fun versus a place for intense study of musical theory and arrangement.
I seem to have been in the minority on that viewpoint. I drew the stink eye from three older women when I tried to carry on a conversation with a table companion whom I had not seen in months.
From then on, I sat stoically face-forward in a kind of forced attention to the band. And that just felt wrong and truly un-fun.
The event was well-attended, and audience members enjoyed the well-executed pieces.
But I left wondering what was more typical. No talking during  the show? Or using the (very nice) music as background?
I took my question to three friends who know music well: my cousin, who plays trumpet with nine bands (and sometimes, he says, even gets paid); a pianist who performs in the Washington, D.C., area; and a friend whose father was a well-known jazz performer.
What they agreed was it all depends on the venue and audience expectations.
Ed Wiley, owner of a North Carolina restaurant that used to offer live jazz, gave the explanation that most closely dovetailed with my thoughts.
"Some places employ musicians, mostly locals, who just want to play. They are there merely to offer some background fodder. People don't actually pay to hear their music and a radio station would suffice," he said. "The 'A' house, on the other hand, is where people pay a pretty decent cover to hear touring musicians and/or recording artists, some of whom are nationally renowned. Generally, in these venues the house rule is, 'If you must talk, please keep conversations to a whisper!'
"The thought is that jazz musicians, as the purveyors of America's only classical music, deserve the same deference as those who perform European classical music. I have seen jazz musicians walk off the stage and refuse to return until the house cleared for the next show.
"However, there are many, many jazz musicians – of which my father was one (Dizzy Gillespie, Louis Jordan, Clark Terry, James Moody also come to mind) – who encouraged audiences to clap, click, sing along, even dance. To players like these, participation is a sign that you're digging the show. My father believed that quiet, unresponsive crowds were often a sign that the music was too mathematical, too sterile or just plain un-fun. He felt that a musician had the responsibility to compel people to pay attention."
The local orchestra is beloved, and the event is an affordable night out. I think I ran afoul by not understanding the social code of the particular event.
I also think my cousin identified the predictor  succinctly for future forays into the unknown:
"How dedicated are their fans?  If the band was playing for dancing … Have fun and drink and give them the stink eye back.  But, If it's being mostly accepted by the audience as a concert performance … then talk at your own risk."
Conclusion: I probably never need to go back unless the event loosens up. The staff   started snatching linens off the tables within minutes of the band's last note, before we'd even said a goodbye to table companions.