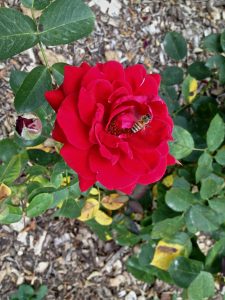 Columbus' Park of Roses isn't just a glorious romp of color and fragrance with 12,000 rosebushes on its 13 acres.
The park is also a memorial to many, an homage to others.
Walking the wide paths, I spend almost as much time wondering about the people named on the rectangular green plaques as I do about the flowers themselves. Every person honored had a story, someone who loved him or her.
After my father died in 1998, I adopted a rose bed in honor of my parents. My mother, who had died years earlier, loved roses, and I still remember the names of ones she grew.
Peace, the yellow hybrid tea with a blush of pink on its petals, exudes a heavenly, sweet fragrance. Dr. W. Van Fleet is a climber with pale pink roses that have a light scent. Blaze is a red climber that bloomed far longer than the usual few weeks in June.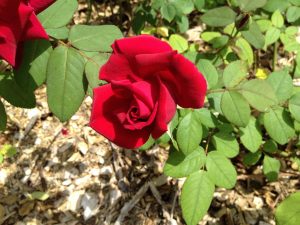 But the rose I most associate with my mother is the climbing variety of Crimson Glory. The rose has a deep red, velvety blossom that carries a heady, lasting fragrance. It goes from a beautiful bud to a lovely, well-formed flower when opened. As a child, I liked to pet its soft petals, which probably wasn't so good for the flower but which delighted me.
Peace and Crimson Glory often decorated our kitchen table in summer, scenting the entire room as a light summer breeze came in open windows.
A whiff of either still transports me home.
Both those varieties can be found in a pocket of the Park of Roses dedicated to older varieties. I like that enclave because the roses there have proved their lasting power.
Every year when my dedication renewal comes up, I ask whether either Peace or Crimson Glory is available. So far, they haven't been.
My current bed is planted with Carrousel, a red rose that has a nice scent but is no Crimson Glory. It's at least my third rose variety since adopting a bed, two earlier varieties having underperformed and been replaced.
My Carrousel bed was looking a bit sad on a recent visit and some replanting is planned. If the foundation that manages the park chooses a new rose, I hope it is red and one with scent.
Most of the 329 rose beds available for dedication in the park have been claimed, with just eight available late last week. Those dedicating a bed pay $200 initially and a $40 maintenance fee yearly. The cost of dedicating a tree is $300 and an engraved stone, $200.
For more information on dedicating a rose bed or other item, contact the Park of Roses Foundation at 614-645-3391.
Conclusion: The Park of Roses is worth a visit any time of the year. Beyond the roses, it has well-tended perennial and herb gardens.
Save
Save
Save
Save