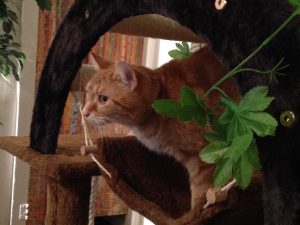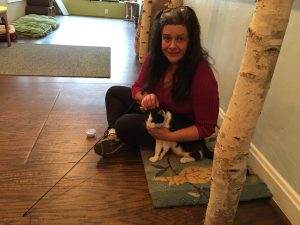 My friend Key and I decided three things after a visit to Eat, Purr, Love, central Ohio's first cat cafe.
No. 1. An hour really is long enough to play with kittens and cats.
No. 2. If you find a cat that you might want to take home, don't dally with your decision. The cat might be adopted before you act, even if you have picked out a really cool name.
No. 3. The coffee and tea might be a little expensive, but the money goes to a good cause.
The cafe on Indianola Avenue in Clintonville is open six days a week, letting visitors meet cats from the Capital Area Humane Society that are available for adoption.   (The cafe is closed Mondays because, according to the website, "Cats do their laundry and get pedis on Mondays.")
Passing pedestrians are likely to see cats in the wide storefront window sleeping on pillowy beds or watching  birds in the trees across the street.
The felines are a contented lot, living in a space outfitted especially for them. They have places to hide, things to climb, toys to bat and soft spots to sleep. They even have an exercise wheel where they can work off those stubborn extra ounces.
Human guests to the Cat Lounge pay $10 to spend an hour with the animals, after signing a waiver that should make a person ponder whether she is going to meet domestic felines or rampaging tigers.
When I booked our visit, I wondered whether an hour was long enough to get to know the dozen animals at the cafe. It was.
Just because I love cats didn't mean I clicked with all of them. I made three friends quickly, including Keeper, one of the resident cats who is definitely NOT up for adoption. Keeper played fiercely and energetically, jumping and running until near collapse as he chased his feather on a stick.
Along with him was a gray and white kitten about 9 months old who joined in the play.
Neither of the cats had any interest in being petted. They were barrels of energy ready to move. The kitten was a bit skittish, as if not used to being that close to strangers. Still, all the cats were more social around strangers than either of my own would be. My cats vanish.
I made my way around the room, petting or talking to animals curled on couches and sitting on sinks. I moved along from most quickly.
Then I spotted a big orange tiger resting behind a sofa. As I sat at the adjacent table to pet him, he did something unusual for a cat: He climbed into my lap for more.
The  nearly 2-year-old male named Blake was sweet, loving and beautiful. He was lithe and athletic, muscular and trim.
As I had with some of the other cats, I wondered how Blake had come to be in a shelter; he obviously had been loved and cared for. But the cafe didn't have the backstories on the animals, and people have many reasons for surrendering an animal.
Key, who adopted her own orange tiger last year, was enchanted by Blake but unsure whether lady Clementine would be willing to share her home with some big bossy guy her mom had just picked up.
By the end of the hour, I was ready to go. Blake had had enough petting, and my playful friends had crashed and were sitting quietly. The remaining cats were being entertained by eight other human visitors.
Talking to the other guests, I found that none of us had come expressly to adopt an animal. One family was in town from Alabama and simply killing an hour. One couple was merely satisfying their cat craving, unable to bring a pet into their rented apartment.
Over the next few days, Key talked to Clementine about a possible stepbrother but the tiny cat gave no clear response.   In a week, though, Key had decided Blake should be rechristened  Crush, as in the soda Orange Crush,  to keep with his coloring and her love of food-themed names. But when she called the cafe to make adoption plans, she found that Blake had been spoken for.
Clementine was probably relieved.
Although many cats at the cafe are several years old and the kittens tend to be teenagers, they are adopted quickly, a staffer said.
T   o arrange a visit at Eat Purr Love or for more information, visit eatpurrlovecatcafe.com.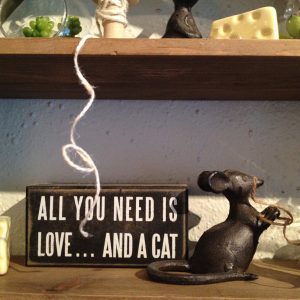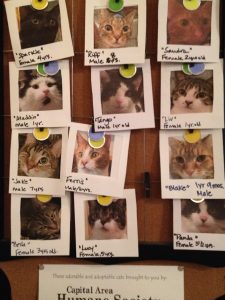 Conclusion: Cats bring happiness.   I will return.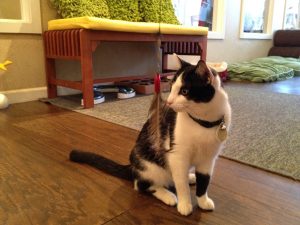 Save
Save