The thing about my efforts to reclaim the fun and spontaneity in my life is this: I haven't had a lot of time to write. I've been too busy being fun and spontaneous.
I've also spent a lot of time on deadly dull work such as housekeeping and laundry, and my days have simply vanished.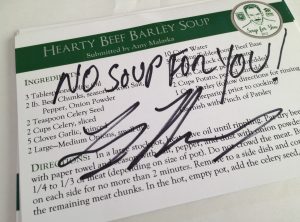 I haven't hit the rhythm of writing daily. (Writing is work; don't let anyone tell you otherwise.) So in addition to fun and spontaneity, I think I need a bit of structure to my life. I'll get there eventually.   Just forgive my two-week gap in blog posts.
But in a totally spontaneous outing, last week I met the Soup Nazi, or rather the actor who played the tyrannical owner of a soup restaurant on the sitcom Seinfeld. (The restaurant owner who inspired the character has reportedly tried to distance himself from the show.)
Actor Larry Thomas appeared at the Bertram Inn near Canton in a fundraiser for the local chapter of Habitat for Humanity, drawing a crowd of about 250 who sampled several dozen soups and captured selfies with the famous face.
Going to the event (I was in town to visit a friend) required a slight change of plans – and a $50 donation – but I decided the evening fit in my new "capture experiences" lifestyle.
I had a chance to talk with Thomas briefly before he was swarmed by guests. The actor said that until the Soup Nazi role, he'd performed primarily in small productions before small audiences. He said he is (understandably) delighted to have played such an iconic character.
The Soup Nazi has been remarkably lasting, considering that the character appeared on Seinfeld only twice – in the 1995 episode "The Soup Nazi" and in the 1998 finale.
The event was fun and whimsical. All the servers wore mustaches just like the Soup Nazi. I talked to total strangers and sampled a number of soups.   Cheeseburger soup and a very tasty root vegetable soup were among my favorites.
I walked away from the event with an autograph, a Soup Nazi mug and a warm glow on a cold winter night.
Conclu
sion: Fun but likely forgettable.
Save
Save
Save
Save
Save
Save